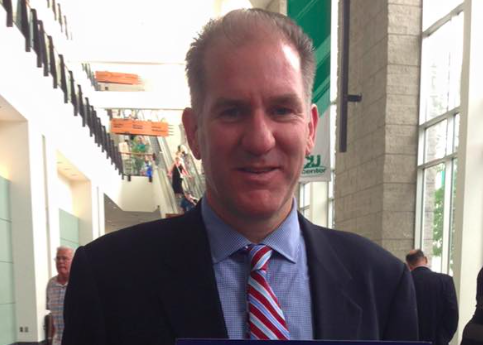 John Carroll was inducted into the New England Basketball Hall of Fame as a prep player, college player and prep coach in 2015.
Carroll finished his 20th year at Northfield Mount Hermon.
At NMH, John has coached over 70 Division I basketball players and many more college basketball players. He has led the NMH basketball program to the distinction of being recognized as the best combination of academics and basketball in the United States.
Carroll has led NMH to 11 straight 21+ win seasons including 9 straight 24+ wins & 3 straight 30+ wins. NMH has been ranked among the top ten teams in the United States for the past 15 years and the top 5 for the past 11 years including #1 rankings in 2013, 2014 & 2018 and finished the 2017 & 2018 seasons ranked #2 in the country. NMH has made the National Championship tournament for 11 consecutive years making it to the 2010, 2013, 2017 & 2018 National Championship game, quarterfinals in 2011, 2012, & 2019, Final Four in 2010, 2013, 2014, 2015, 2016, 2017, 2018 & 2020 and won the National Championship in 2013. In 2012, 2016, 2018 & 2019, NMH won the New England (NEPSAC AAA) Championship. Carroll's 2012 and 2013 teams set and tied the mark for most wins in NMH history with 29, set another record of 30 wins in 2017, and again in 2018 with 31 wins, and set the mot recent mark at 32 wins in 2019.
In 2021-2022, NMH will have over 2 dozen basketball alums playing NCAA basketball including 14 in the Ivy League. NMH will have 3 players on the roster at Harvard and Brown, 2 at PENN and Cornell, and one each at Dartmouth, Yale and Columbia. An NMH alum will play in all 56 Ivy League regular season games in 2021-2022! NMH will also have alums playing at Notre Dame, Kentucky, Kansas, Texas, Northwestern, Washington State, Massachusetts,

Hawaii

,

Colgate, College of Charleston, Tulane, and Elon in Division I.
Over the past 5 years, NMH basketball alumni have captained the men's basketball teams at the University of Michigan (2x), University of Vermont (2x), Dartmouth College (3x), Brown University (2x), Harvard University (2x), Trinity College, the University of Pennsylvania, Yale University and Princeton University.
As a college athlete, Carroll was a four year letter-winner at Assumption College where he finished his career as one of the most prolific three-point scorers in NCAA history. He ended his career as Assumption's No. 6 all-time scorer with 1551 points and still holds most of their three-point records. He finished his college career with 342 three-pointers. Assumption won the NE-10 Championship from 1990-1992. Carroll was an All-Conference player in 1992.
As an athlete at NMH, Carroll averaged 27 points per game and was named MVP of NMH's 1988-1989 squad which finished 17-6. He also pitched and played first base for the NMH baseball team. Prior to NMH, he attended Poly Prep in Brooklyn, NY and played AAU ball with the Bronx Gauchos.
At NMH, after a 13 year career in the NMH admission office, John is now in the Athletics Department.
In 2012 and 2016, Carroll earned NEPSAC AAA Coach of the Year. In 2008-2009, John served as the Parents' Council Faculty Chair for excellence in the NMH athletic program
.
And in 2016, Carroll was recognized by the Positive Coaching Alliance with their National Double-Goal Coach Award.